Remember this guy: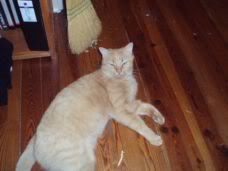 We haven't seen Mickey since last winter during the big snow storm. We brought him home but as soon as the weather cleared he left to go back to the old house and has remained there since. However the weather has gotten really cold in addition to some high winds and it made me think of Mickey again. So yesterday I drove by the old house and there he sat on the side porch. When I pulled in the driveway he started towards the car, HOWEVER, when I got out of the car he ran in the other directions. The home owners came out, agreed we were in cold weather again and said they'd try to catch him, crate him and give us a call.
When I got home today I had a message from them and went to the house to get him. I took him out of the crate and we drove home. We got out of the car and while walking to the house Cooper came along. Mickey took one looked at him and turned and ran in the opposite direction - GONE!!
I had a place to be and since he ran from me, just decided to let him go on his journey back to the old house. But when I got home a few hours later, I heard him howling and he came to the door and came inside. Right now he's hiding in the basement, but at least for tonight he won't be out in the cold and wind.
On a sad note, my mother-in-law died today.