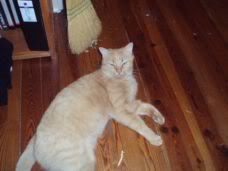 Mickey is always on the move....he can't accept the fact that we moved over a year ago and continually travels between the new house and the old one. So what does Mickey see when he travels? Well our new weekly post will share that!!


Waynesboro is a borough in Franklin County, Pennsylvania, located 78 miles (126 km) northwest of Baltimore, Maryland, and 2 miles (3 km) north of the old Mason-Dixon Line. The population was 9,614 at the 2000 census. Waynesboro is in the Cumberland Valley between Hagerstown MD and Chambersburg PA. It is close to Camp David and Site R.

The area around Antietam Creek had been home to Native Americans for centuries prior to settlement by white men in the mid-18th Century. Scotsman John Wallace built a cabin and laid claim to the area. His sons, George and John, expanded the fledgling community, erecting a church and school. The town of Waynesburg was plotted in 1797 by John Wallace, Jr. Its name was changed to Waynesboro in 1831 when the state decreed that towns had to have distinct names, and there were other places named Waynesburg. It is one of several dozen towns, cities, and counties named after General Anthony Wayne.
During the American Civil War, Waynesboro, a strongly pro-Union town, played a part in the Gettysburg Campaign in June and July 1863. In the week before the Battle of Gettysburg, Confederate Major General Jubal Early's division of Lieutenant General Richard S. Ewell's corps of the Army of Northern Virginia passed through the community on its way northward. After the battle, General Robert E. Lee rode through the border community with his retreating forces. In 1963, a book, Thirteen Days under the Confederate Flag, told of the occupation.
Waynesboro was chiefly an industrial town in the early years of the 20th Century. It was known for the manufacture of engines, boilers, grinders, threshers, boring machines, bolt cutters, wood and iron workers' vises, nut facers, etc. There were also foundries and machine shops, and manufactories of lumber products. Some local manufacturing companies included the Frick Company, the Geiser Company, and the Landis Tool Company. In 1900, 5,396 people lived in the town; in 1910, 7,199 people; and in 1940 10,231 (more than in 2000).
Waynesboro is home to the Renfrew Museum and Park, an historical museum depicting 18th century farm life, named after two young sisters who died there in 1764 in an Indian attack.
Waynesboro is also the home of the first school in Franklin County, Burns Cabin, which is located on Burn's Hill.
<info from Wikipedia>